Gumroad – Blender 3D Architect Pro: Are you looking to use Blender and open-source software to create architectural visualization? With Blender 3D Architect, you have the most extensive community of information and tools to use Blender for architecture.
Gfx plugin details of Gumroad – Blender 3D Architect Pro
For more information about this post you can click on the home page link in the sidebar.
To search for similar products to Gumroad – Blender 3D Architect Pro, click here.
What can you expect when you sign up for Blender 3D Architect Pro? We have today the following program of content for our customers:
Weekly (3 updates):
2 Tutorials using videos that explain using Blender for building (MP4 files plus Blender files)
1 Asset for Architecture that is in Blender native format (Usually furniture models) with textures
Each month (1 update):
A whole course or a workshop with Blender 3D Architect. Each month, you will have access to the entire workshop or course. Each course or workshop has a connection to Blender or architecture.
The content created by Blender 3D Architect Pro is created for teaching, and Blender 3D Architect Pro has an emphasis on Blender and architecture. You can access or download the instructional videos on your computer or mobile application (iOS and Android). Tutorials are provided in MP4 format and contain source files (Blender files, texture files, assets, or) used to create the content.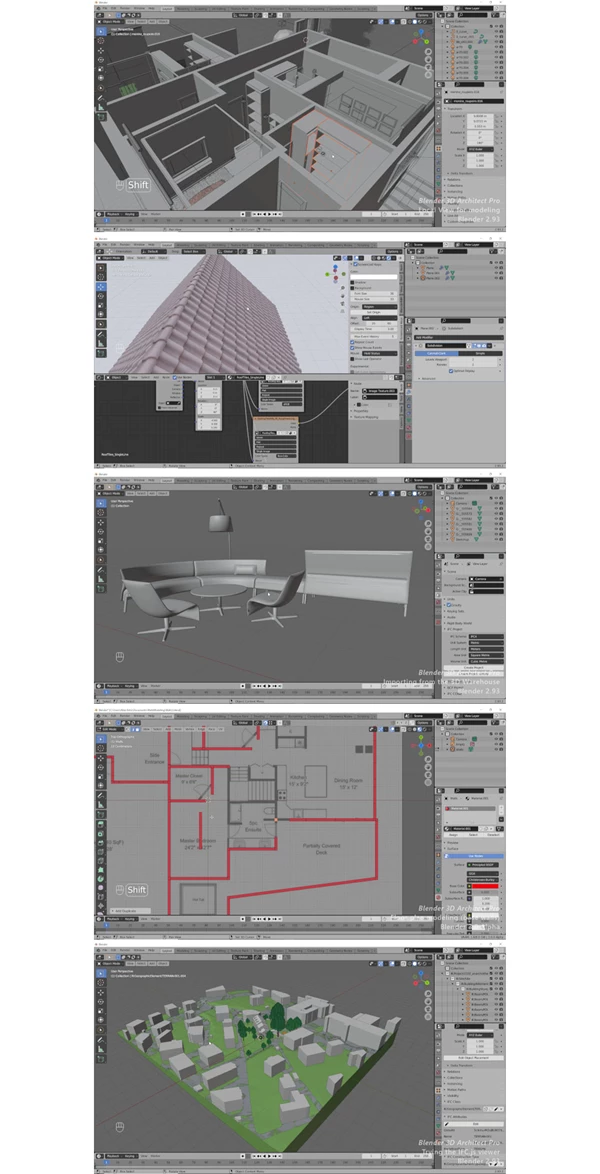 Here's a complete list of the tutorials available:
Importing SketchUp 2022 files to Blender
Modeling walls with BagaPie
How to fix the Simple Deform modifier (Bend walls)
Complex surface Modeling - Rounded planes (Bevel)
Bakelab Addon quick intro
Precision modeling - Fixing rotations
Quick booleans - BagaPie Addon
Editing textures - Saturation enhancement
Copies along the path - Animation Nodes
How to convert multiple assets to a single entity?
Saving profiles - Bevel tool
JMesh tools - Circular Array
Bevel tool - custom profiles for modeling
Cutout textures and the Asset Browser
Asset Browser - Quick Start
PBR Textures resolution
IES Lights - Color and noise
Rendering a floor plan in SVG with an isometric camera
Drag options for modeling in Blender 3.0
Transparent background for renders
FreeStyle updates in Blender 3.0
Exporting from SketchUp to Blender
Managing linked copies
Using multiple monitors with Blender 3.0
Installing custom color profiles in Blender
Align and distribute Addon for Blender
Modeling spiral stairs with the Array modifier
What is the fastest way to create cameras?
Blender 3.0 Beta: New knife tool for modeling
Trying the IFC.js web viewer
Controlling the emission shader with a Geometry Node
Local view for modeling
Modeling multiple slope roofs with textures
Importing furniture models from the 3D Warehouse
Roofing tiles with displacement maps
Eevee GI - Fixing common problems
Baking materials and lights in Cycles
Creating a studio scene for Blender
Cycles X UI Overview
FreeStyle and Dimension Lines
Chrome material for Blender
Controlling shadows and glossy surfaces for each object
Floor plan modeling (base walls)
Making curved paths for camera animation
Preparing files for external libraries
Angled walls based on references
Using the batch rename option for furniture
Text animations for video
Camera target for architecture
Modeling with the Shrink Wrap modifier (Curved panels)
Modeling - Curve-based walls
Architectural modeling - Polar Array
Using the Floor Board Generator
Align objects with Python
Rendering dimension lines
Scattering objects with particles
MeasureIT ARCH - Quick intro
Modeling tutorial - Curved ramp connecting floors
Water material from scratch
Camera correction for architecture
Isolate Mode for modeling
Random mapping for textures
Custom glass material (Frosted)
Shadeless material for Blender Cycles
Asset browser of Blender 3.0
Using Blender for color correction
Publishing panorama images (360)
Drawing and rendering dimension lines
Modeling for architecture - Arch windows
EEVEE SSGI Updates (#2)
Area Lights - Beam Shape (2.93 New feature)
Curtain modeling
Custom controls for doors - Architectural animations
Importing DWG files to Blender
Using Gloss and Reflect maps in Blender
PBR Textures scaling - Tile size
Editing PSD files with GIMP and Blender
Modeling tips - From mesh to curves
Using LuxCore with Blender
Modeling a curtain wall
Section planes - Custom controls
Cycles X - First look
CAD Transformations (Addon)
Using videos as textures
Exporting SVG files from Blender
Screen Space GI for EEVEE (Blender 2.93 alpha - custom build)
Importing SKP files to Blender
Camera matching with fSpy and Blender
Architectural animation - Reveal and section planes
Area lights for interiors
Profile-based modeling: Plaster molding
Camera bind for animation
Add a sky background using the Composite Editor
Eevee mirror material
How to save a view in Blender?
Separating furniture models
Using external references for architecture (Append and Link)
Arch symbol: Doors
Interactive modeling (Blender 2.92 - New feature)
Rendering a floor plan in Blender
Render region settings
Eevee quick settings for interiors
New snapping options (Perpendicular and center)
NPR Effect for renders (Outline)
Sun Light settings - Shadows
Eevee DoF (Experimental build)
Equirectangular render for interiors
How to use displacement maps in materials
PBR material settings
HDR visibility controls for exteriors
How to import SketchUp Files to Blender?
Using IES Profiles in Cycles
How to create an actual isometric camera in Blender?
Editing the origin point for furniture models
Depth of Field Effect on Interiors
FOV settings for interiors
Using cutout textures in Blender
Architectural modeling - Using feet and inches in Blender
Editing UV maps and adding textures to furniture models
Using CAD tools to create walls in Blender
Lighting methods - Comparing HDR and the BlackBody Node
Choosing a radius for round-shaped walls
Introduction to Geometry Nodes (2.92 Alpha)
What is Gumroad – Blender 3D Architect Pro?
Gumroad – Blender 3D Architect Pro includes a wide range of tutorials related to architectural modeling and rendering using Blender 3D. These tutorials cover various aspects of using Blender for architectural visualization and design. Some of the topics covered include modeling walls, using add-ons, texturing, lighting, camera setup, and many other techniques relevant to architectural projects.
These tutorials can be valuable resources for architects, 3D artists, and designers who want to learn how to leverage Blender for architectural visualization and modeling. They likely provide step-by-step instructions and tips for achieving specific results in Blender, making it easier for users to create realistic architectural scenes and animations.
Download Gumroad – Blender 3D Architect Pro from the below link now!
Access Permission Error

You do not have access to this product!
To download this product, follow these steps:
Please login to your account. (Please click here to login, Not registered yet? Click here)
Please subscribe to the VIP or higher plan. (Please click here to upgrade your account)
notice: if you are a VIP member and your account has not expired, please refresh your browser (press Ctrl+F5) and download.
Files Password : gfxplugin.com